Atlas of Japanese Scarabaeoidea Vol.3 Phytophagous group II

by Hirokazu KOBAYASHI & Takeshi MATSUMOTO
publishing by Roppon-Ashi Entomological Books

Vol.1 Coprophagous group - original version Click here !
Vol.1 Coprophagous group - paperback version Click here !
Vol.2 Phytophagous group I Click here !
※No paperback version is available on vol.2 and 3. Please buy original version.





Date of publication: Feb. 1st, 2011
Retail price: JPY18,095
Contents: Family SCARABAEIDAE,Subfamily MELOLONTHINAE 131sp., 13ssp.
A4 format, hard cover, 178pp. full color, text in Japanese with scientific name

This series are comprehensive color photographic catalogue of Japanese Scarabaeoidea.
This volume contains all known 131 species and 13 subspecies of Japanese Melolonthinae.
Containing taxa: Click here !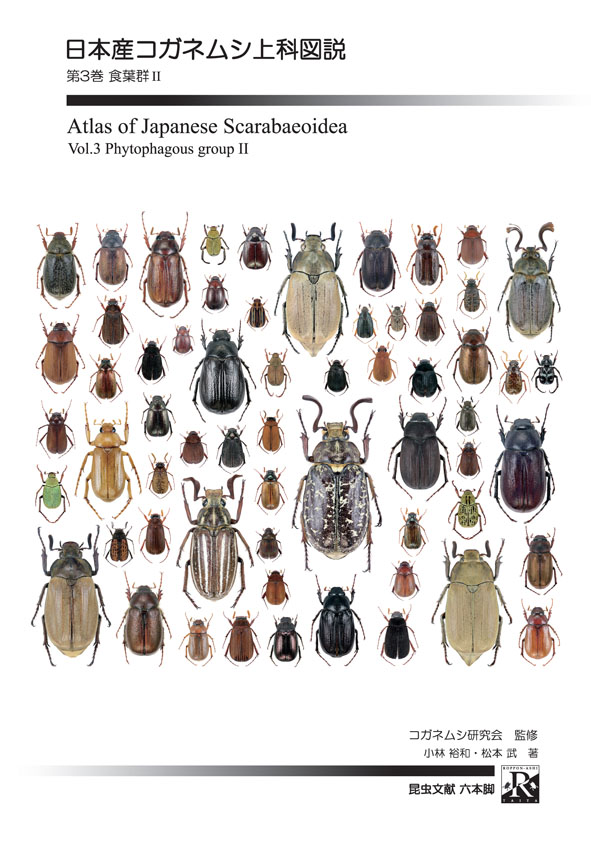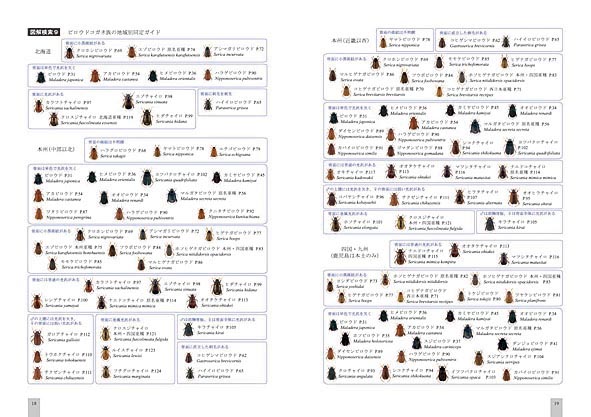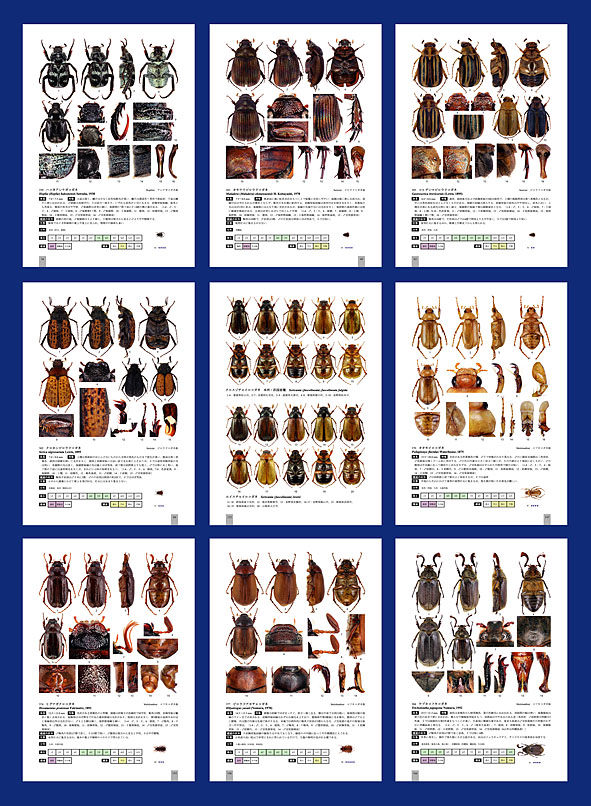 <Containing taxa>

Superfamily SCARABAEOIDEA
Family SCARABAEIDAE
Subfamily MELOLONTHINAE

Tribe HOPLIINI

Genus Hoplia Illiger, 1803
Hoplia (Euchromoplia) communis Waterhouse, 1875
Hoplia (Euchromoplia) reinii Heyden, 1878
Hoplia (Hoplia) hakonensis Sawada, 1938
Hoplia (Hoplia) moerens Waterhouse, 1875
Hoplia (Hoplia) shirakii Nomura, 1959

Genus Ectinohoplia Redtenbacher, 1868
Ectinohoplia gracilipes (Lewis, 1895)
Ectinohoplia obducta (Motschulsky, 1857)
Ectinohoplia rufipes (Motschulsky, 1860)

Tribe SERICINI

Genus Maladera Mulsant et Rey [1871]
Maladera (Maladera) japonica (Motschulsky, 1860)
Maladera (Maladera) yaeyamana Nomura, 1963
Maladera (Maladera) horii H. Kobayashi, 2010
Maladera (Maladera) renardi (Ballion, 1871)
Maladera (Maladera) holosericea (Scopoli, 1772)
Maladera (Maladera) orientalis (Motschulsky, 1857)
Maladera (Maladera) cariniceps (Moser, 1915)
Maladera (Maladera) oshimana Nomura, 1962
Maladera (Maladera) kawaii H. Kobayashi, 2010
Maladera (Maladera) opima Nomura, 1967
Maladera (Maladera) ejimai Y. Miyake et Imasaka, 1987
Maladera (Maladera) imasakai Y. Miyake et Yamaya, 1995
Maladera (Maladera) kunigami H. Kobayashi, Kusui et Imasaka, 2006
Maladera (Maladera) yakushimana H. Kobayashi, Kusui et Imasaka, 2006
Maladera (Maladera) kamiyai (Sawada, 1937)
Maladera (Maladera) amamiana Nomura, 1959
Maladera (Maladera) tokunoshimana H. Kobayashi, Kusui et Imasaka, 2006
Maladera (Maladera) inadai H. Kobayashi, 2010
Maladera (Maladera) okinawaensis H. Kobayashi, 1978
Maladera (Maladera) impressithorax Nomura, 1973
Maladera (Maladera) okinoerabuana H. Kobayashi, 1978
Maladera (Maladera) kawaharai H. Kobayashi, 2010
Maladera (Maladera) kusuii Y. Miyake, 1986
Maladera (Maladera) castanea (Arrow, 1913)
Maladera (Maladera) satoi Nomura, 1961
Maladera (Maladera) secreta secreta (Brenske, 1897)
Maladera (Eumaladera) nitidiceps Nomura, 1967
Maladera (Eumaladera) nitididorsis nitididorsis Nomura, 1967
Maladera (Eumaladera) nitididorsis ootsuboi H. Kobayashi, 2009
Maladera (Eumaladera) yonaguniensis H. Kobayashi, Kusui et Imasaka, 2006

Genus Hoplomaladera Nomura, 1974
Hoplomaladera saitoi H. Kobayashi, 1975

Genus Gastroserica Brenske, 1897
Gastroserica brevicornis (Lewis, 1895)
Gastroserica higonia (Lewis, 1895)

Genus Gastromaladera Nomura, 1973
Gastromaladera major (Nomura, 1959)

Genus Paraserica Reitter, 1896
Paraserica grisea (Motschulsky, 1866)

Genus Pachyserica Brenske, 1897
Pachyserica yanoi Nomura, 1959

Genus Serica MacLeay, 1819
Serica pilosa (Nomura, 1971)
Serica takagii Sawada, 1937
Serica nigrovariata Lewis, 1895
Serica brevitarsis brevitarsis Nomura, 1972
Serica brevitarsis rectipes Nomura, 1972
Serica incurvata (Nomura, 1971)
Serica yoshidai (Nomura, 1959)
Serica karafutoensis karafutoensis Niijima et Kinoshita, 1923
Serica karafutoensis honshuensis Nomura, 1972
Serica rosinae kurosawai (Nomura, 1959)
Serica boops Waterhouse, 1875
Serica nipponica (Nomura, 1959)
Serica echigoana (Nakane et Baba, 1960)
Serica tokejii (Nomura, 1959)
Serica planifrons Nomura, 1972
Serica nitididorsis nitididorsis (Nomura, 1971)
Serica nitididorsis opacidorsis Nomura, 1972
Serica foobowana Sawada, 1937
Serica trichofemorata (Nomura, 1959)
Serica ovata (Nomura, 1971)

Genus Nipponoserica Nomura, 1973
Nipponoserica peregrina (Chapin, 1938)
Nipponoserica gomadana Nomura, 1976
Nipponoserica daisensis (Sawada, 1937)
Nipponoserica pubiventris Nomura, 1976
Nipponoserica similis (Lewis, 1895)
Nipponoserica kunitachiana Nomura, 1976

Genus Sericania Motschulsky, 1860
Sericania (angulata) angulata (Lewis, 1895)
Sericania (angulata) shikokuana Nakane, 1954
Sericania (angulata) ohirai Sawada, 1960
Sericania (angulata) kobayashii Nomura, 1976
Sericania (sachalinensis) sachalinensis Matsumura, 1911
Sericania (sachalinensis) sinuata (Lewis, 1895)
Sericania (sachalinensis) hidana Nomura, 1959
Sericania (sachalinensis) yamayai H. Kobayashi et M. Fujioka, 2008
Sericania (sachalinensis) elongata Nomura, 1976
Sericania (quadrifoliata) quadrifoliata (Lewis, 1895)
Sericania (quadrifoliata) opaca Nomura, 1973
Sericania (quadrifoliata) serripes Nomura, 1973
Sericania (quadrifoliata) kirai Sawada, 1938
Sericania (quadrifoliata) yamauchii Sawada, 1938
Sericania (quadrifoliata) alternata Sawada, 1938
Sericania (quadrifoliata) miyakei Nomura, 1960
Sericania (quadrifoliata) awana Nomura, 1976
Sericania (quadrifoliata) tohokuensis Sawada, 1955
Sericania (quadrifoliata) chikuzensis Sawada, 1938
Sericania (quadrifoliata) galloisi Niijima et Kinoshita, 1927
Sericania (fuscolineata) ohtakei Sawada, 1955
Sericania (fuscolineata) mimica mimica Lewis, 1895
Sericania (fuscolineata) mimica kompira Y. Miyake et Sano, 1996
Sericania (fuscolineata) matusitai Sawada, 1955
Sericania (fuscolineata) kadowakii Nakane, 1983
Sericania (fuscolineata) fuscolineata fuscolineata (Motschulsky, 1860)
Sericania (fuscolineata) fuscolineata ezoensis Nomura, 1976
Sericania (fuscolineata) fuscolineata minuscula Nomura, 1976
Sericania (fuscolineata) fuscolineata fulgida Niijima et Kinoshita, 1927
Sericania (fuscolineata) lewisi Arrow, 1913
Sericania (fuscolineata) marginata Nomura, 1973

Tribe DIPLOTAXINI

Genus Apogonia Kirby, 1818
Apogonia amida Lewis, 1896
Apogonia bicarinata Lewis, 1896
Apogonia cupreoviridis Kolbe, 1886
Apogonia kamiyai Sawada, 1940
Apogonia ishiharai Sawada, 1940
Apogonia major major Waterhouse, 1875
Apogonia major bicavata Arrow, 1913
Apogonia tanigawaensis Sawada, 1940

Tribe MELOLONTHINI

Subtribe RHIZOTROGINA
Genus Miridiba Reitter, 1902
Miridiba castanea (Waterhouse, 1875)
Miridiba hirsuta T. Itoh, 2001

Genus Holotrichia Hope, 1837
Holotrichia amamiana (Nomura, 1964)
Holotrichia convexopyga Moser, 1912
Holotrichia danjoensis Y. Miyake et Imasaka, 1982
Holotrichia loochooana loochooana (Sawada, 1950)
Holotrichia loochooana okinawana (Nomura, 1964)
Holotrichia kiotonensis Brenske, 1894
Holotrichia tokara (Nakane, 1956)
Holotrichia diomphalia (Bates, 1888)
Holotrichia aritai (Nomura, 1964)
Holotrichia koraiensis Murayama, 1937
Holotrichia parallela (Motschulsky, 1854)
Holotrichia picea Waterhouse, 1875

Genus Pollaplonyx Waterhouse, 1875
Pollaplonyx flavidus Waterhouse, 1875

Genus Sophrops Fairmaire, 1887
Sophrops kawadai kawadai (Nomura, 1959)
Sophrops kawadai okinawaensis Nomura, 1977
Sophrops konishii konishii Nomura, 1970
Sophrops konishii yonaguniensis Nomura, 1970
Sophrops takatoshii T. Itoh, [1990]

Genus Hexataenius Fairmaire, 1891
Hexataenius protensus Fairmaire, 1891

Genus Brahmina Blanchard, [1851]
Brahmina sakishimana Nomura, 1965

Genus Heptophylla Motschulsky, 1857
Heptophylla picea Motschulsky, 1857

Genus Hilyotrogus Fairmaire, 1886
Hilyotrogus yasuii (Nomura, 1970)

Subtribe MELOLONTHINA
Genus Dasylepida Moser, 1913
Dasylepida ishigakiensis (Niijima et Kinoshita, 1927)

Genus Melolontha Fabricius, 1775
Melolontha (Melolontha) frater frater Arrow, 1913
Melolontha (Melolontha) japonica Burmeister, 1855
Melolontha (Melolontha) masafumii Nomura, 1952
Melolontha (Melolontha) tamina Nomura, 1964
Melolontha (Melolontha) satsumaensis satsumaensis Niijima et Kinoshita, 1923
Melolontha (Melolontha) satsumaensis shikokuana Nomura, 1977

Genus Tricholontha Nomura, 1952
Tricholontha papagena Nomura, 1952

Genus Polyphylla Harris, 1841
Polyphylla (Gynexophylla) laticollis laticollis Lewis, 1887
Polyphylla (Granida) albolineata (Motschulsky, 1861)
Polyphylla (Granida) schoenfeldti Brenske, 1890