Atlas of Japanese Scarabaeoidea Vol.1 Coprophagous group <paper back>
ISBN 978-4-902649-07-9

Paper back version has the same contents as original version, but 8 pages in black and white
are added at the end which is guidance for preparation, newly recorded species in Japanese
and collection lavels.

Paper back version is half size (A5), soft cover, very light, 1/6 price from the original version,
but keep its quality, so it is ideal for carrying on trip, for children or student, put besides your
bed side or laboratory. Any reason to not buying ?





Date of publication : September 1st, 2008
Editors & Authors : Kawai, S., Hori, S., Kawahara, M. and Inagaki, M.
Editorial Supervisor : The Japanese Society of Scarabaeoideans
Size : A5(148mm~210mm), Soft cover
Publisher : Roppon-Ashi Entomological Books
Retail price: JPY3,000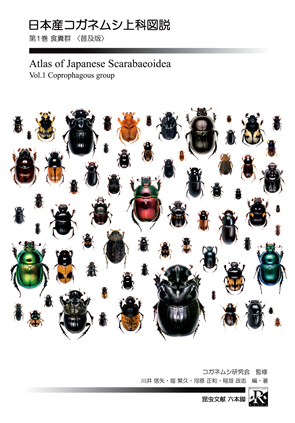 Original versions (A4 format, hard cover) are also available here :

Atlas of Japanese Scarabaeoidea Vol.1 Coprophagous group

Atlas of Japanese Scarabaeoidea Vol.2 Phytophagous group I