------------------------------------
NEW
THE BUTTERFLIES OF THAILAND Vol. 3 Nymphalidae
Based on Yunosuke KIMURA Collection
Authors: Yunosuke KIMURA, Toshiaki AOKI, Shuhei YAMAGUCHl, Yoshinobu UEMURA and Tamamitsu SAITO
Appearance of the book: Each Paper Size: A4 (297x210mm) and pages: 264pp., 900g
Illustration of each specimens is all colours The inhabitat and distribution charts are inserted All description are written by both Japanese and English.
Price: JPY10,000 + EMS postage+packing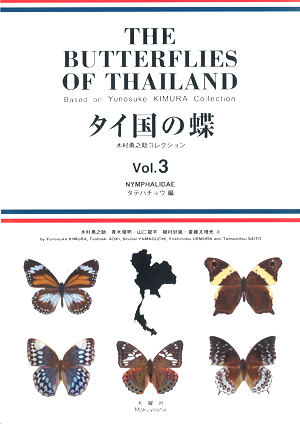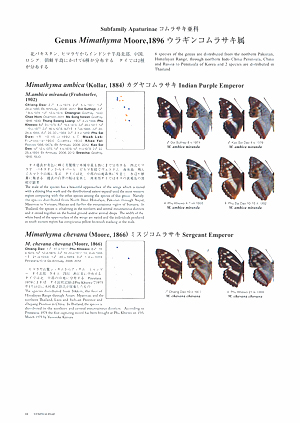 Click here for details (pdf)

------------------------------------


THE BUTTERFLIES OF THAILAND Vol. 2 Lycaenidae
Based on Yunosuke KIMURA Collection
Authors: Yunosuke KIMURA, Toshiaki AOKI, Shuhei YAMAGUCHl, Yoshinobu UEMURA and Tamamitsu SAITO
Appearance of the book: Each Paper Size: A4 and pages: 245pp), 860g
Illustration of each specimens is all colours. The inhabitat and distribution charts are inserted. All description are written by both Japanese and English.
Price: JPY8,000 + EMS postage+packing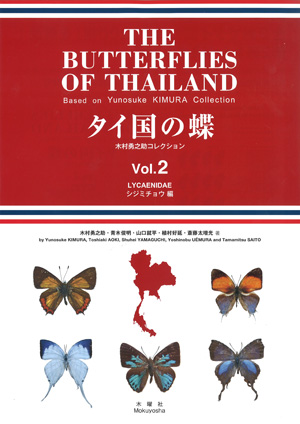 Click here for details (pdf)

------------------------------------

THE BUTTERFLIES OF THAILAND Vol.1 Hesperiidae, Papilienidae and Pieridae
Based on Yunosuke KIMURA Collection
Authors : Yunosuke KIMURA, Toshiaki AOKI, Shuhei YAMAGUCHl, Yoshinobu UEMURA and Tamamitsu SAITO
Appearance of the book : Each Paper Size: A4 and pages: 224pp), 760g
Illustration of each specimens is all colours. The inhabitat and distribution charts are inserted. All description are written by both Japanese and English.
Price: JPY8,000 + EMS postage+packing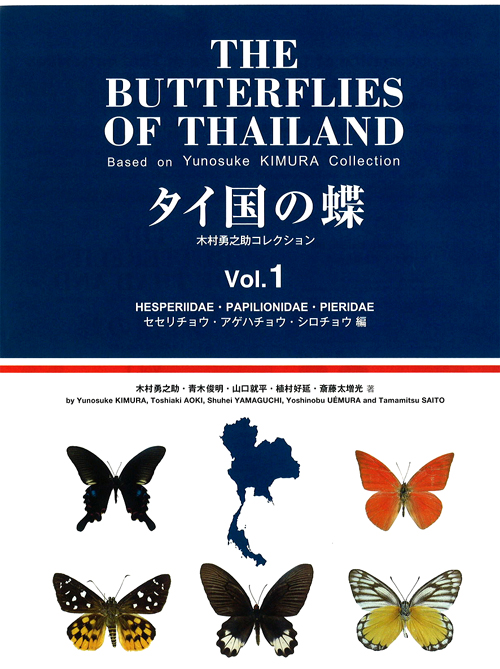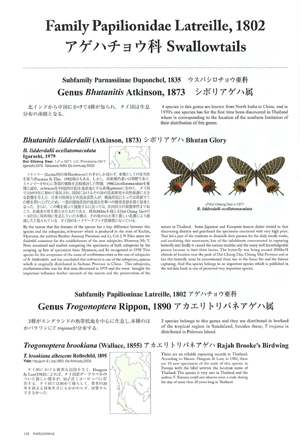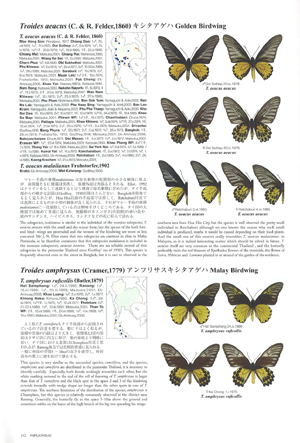 The explanation of 1,200 species of Thai buttepflies entipely, with the three Volumes of books.
This is the first Volume, including families, Hesperiidae, Papilionidae and Pieridae.
During 30 years attracted by Thai butterflies, one of author Y. Kimura investigated at the various districts of all countries of Thailand and collected by himself 1,100 species of the butterflies in respective location in Thailand. The book has been compiled so that all data have been sorted out and arranged marvelous plenty good enough collecting records. Today the first Volume among the 3 Volumes has been published by the begining on the sales.

The Contents of this book
Comprising the entire capturing records the butterflies in Thailand on the literatures viz. the explanation of entire Thai butterflies consisting of l,200 species and inserting plot chart of the distribution of all butterflies. The publication and illustration of the valuable specimens captured by the author Y. Kimura himself.

Now a day, the many mountains and forests in the wide district of South-East Asia are deforested and a lot of the entomologist are entertaining a serious apprehensions of an extinction of the creatures living in South-East Asia, so this book is an important material which could not be neglected for study and researches of the butterflies inhabiting in South-East Asia. The synonym list that inserted in the last pages are made with the most accurate attention by the careful examination of the original literatures as exact as possible and made correction of the errors written and expressed in the description and illustration of the respective literatures.

<Contents>
Preface 3
Introduction 8
Habitat and Scence 14
Hesperiidae 20
Coeliadinae 20
Pyrginae 30
Hesperiinae 51
Papilionaidae 110
Parnassiinae 110
Papilioninae 110
Pieridae 141
Coliadinae 151
A synonymic List of the Butterflies of Thailand 170
Index 212
Japanese Index 216

------------------------------------




Catalogue of BIRDWING Butterflies Revised Edition
Author: OHYA, Takashi
Issued: July. 2009
A4 size, 288pp.
Price: JPY9,333( + EMS postage+packing)
text: English
Hard cover,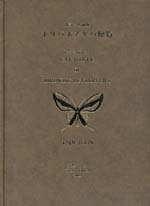 INTRODUCTORY NOTES
1.This book on the Birdwing Butterflies (Genus Ornithoptera, Genus Trogonoptera and Genus Troides) is made up of the following seven parts.
Part 1: Classification of Birdwing Butterflies
Part 2: Original descriptions of Birdwing Butterflies
Part 3: Alphabetic list of taxonomic names and their original descriptions
Part 4: Index to original genera, subgenera
Part 5: Index to authors
Part 6: Index to journals, serials and books
Part 7: Distribution list of Birdwing Butterflies
2.All original descriptions described for 250 years from 1758 (the year that Linnaeus first named to Birdwing Butterflies) to 2008 were investigated.
3.The mark* before the taxon in Parts 1 and 4 indicates the form named after its species or subspecies.
4.Abbreviations of the titles of journals and serials are quoted from "The World List of Scientific Periodicals" (1964) (Butterworths, London), but are modified in some limited cases.
5.Publications with the mark★ in Parts 5 and 6 indicate books, while those without the marks show journals and serials.
6.The type locality in Part 7 have been re6erred to the original description. The names of habitats in the distribution area are fundamentally arranged in order from west to east and from north to south. The mark* indicates the geographical name of which location could not indicated.

PREFACE FOR THE REVISED EDITION

During 8 years since the first edition was issued, many new taxa and new habitats of Birdwings were reported. The year 2008 is corresponds to the 250th anniversary counting from the memorial year which LINNAEUS (1758) gave the name to Birdwings firstly. What all of the original of Birdwings is analyzed may be enlightening for many researchers in case of their further studies in future on account of being able to learn about the whole of Birdwings, so the editor have determined to bring out the revised edition. I should be honor if my aim would be able to be attained by this book.
On the occasion of revising this book, I took care on the following points.
1. In Part 1, on account of elimination of the unavailable taxonomic names and addition of newly described 129 taxa, the new classification list is made up of 648 taxa.
2. In Part 2, all the original descriptions are classified into every Subgenus. In a case of original description by Japanese author, not only Japanese title of the bulletin but also English title is written side by side.
3. In Part 3, the title of bulletin is indicated in both Japanese and English in a case of the Japanese author.
4. In Parts 4, 5 and 6, the method of arrangement applies correspondingly to the first edition, but the print of this revised edition may be easier to read than that of the first edition due to the use of larger printing type. Bold print indicates it to be a available taxon.
5.In Part 7, 334 locations have been recorded as the new habitats, i. e. these newly found locations relative to Genera Ornithoptera, Trogonoptera and Troides are 120, 28 and 186 places, respectively.

April 2009
Takashi OHYA

CONTENTS
PREFACE                                         i
INTRODUCTORY NOTES                               vii
PART 1: Classification of Birdwing Butterflies                     1
PART 2: Original Descriptions of Birdwing Butterflies                31
PART 3: Alphabetic List of Taxonomic Names and their Original Descriptions  75
PART 4: Index to Original Genera, Subgenera                    129
PART 5: Index to Authors                               159
PART 6: Index to Joumals, Serials and Books                    207
PART 7: Distribution List of Birdwing Butterflies                   251

-------------------------

Natural History of Birdwing Butterflies
Hirotaka Matsuka, 2001

Click here for details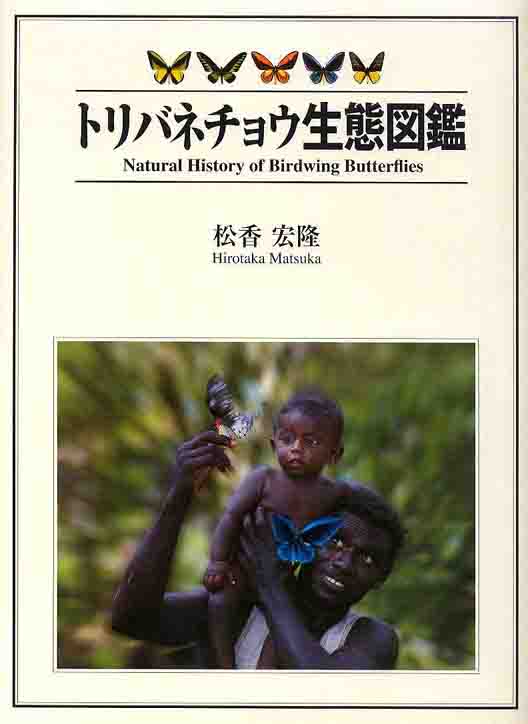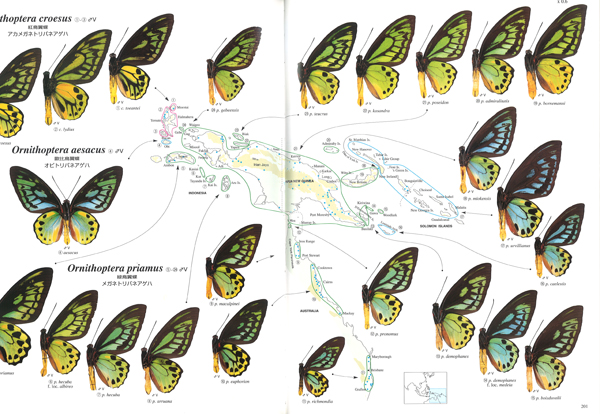 --------------------

The life histories of Asian Butterflies. Series
Igarashi & Fukuda, 1997-2015.

Click here for details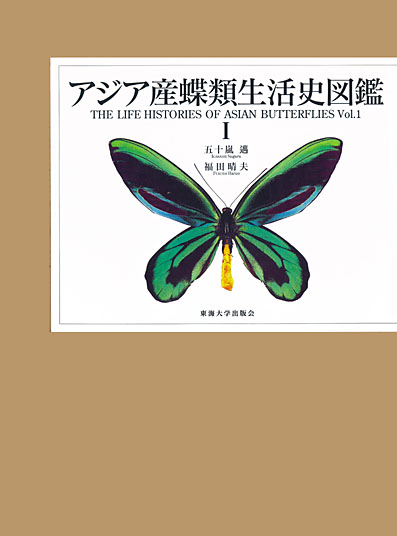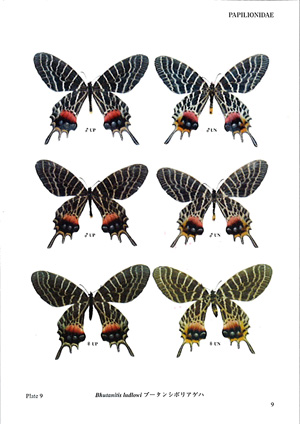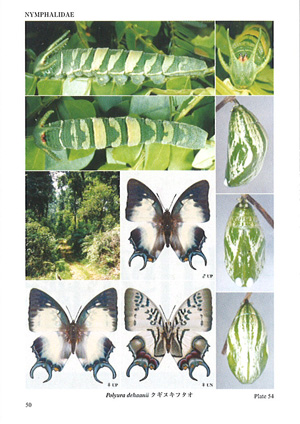 --------------------

Butterflies of Laos
Osada, Uemura & Uehara, 1999
A4, 239pp.
Price: JPY18,000(+EMS postage+packing)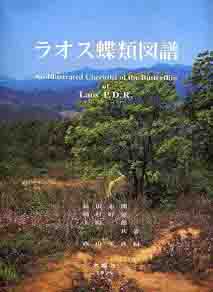 --------------------

An illustrated list of the Genus Delias of the World
Yagishita, Nakano & Morita, 1993.
2410g.
Plates: 409pp.(full color). JPY16,000(+EMS postage+packing)
Text: 384pp. JPY2,000(+EMS postage+packing)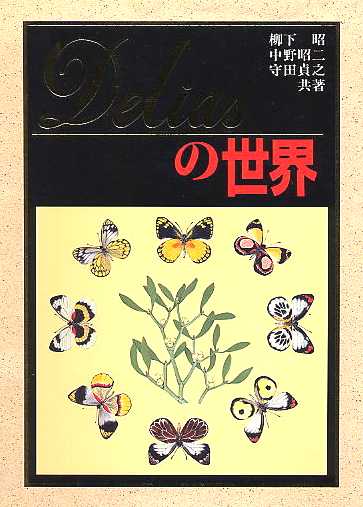 --------------------




Butterflies of theSouth East Asian Islands

This is Japanese very famous and popular iconographic series of butterflies
of the Sounth-east Asian Islands. The series contain 5 volumes covered most
major groupe of butterflies (in Japanese), and 2 of them were translated into
English (following 2 tytles).

Vol.I. Papilionidae
Author: Etsuzo Tsukada & Yasusuke Nishiyama
Price: JPY25,000(+EMS postage+packing)
457pp.(166 color plates),
Size: 240mm×310mm×40mm
English eddition published: July 1982
In English.

Covered all Papilionidae such as Troides, Ornithoptera, Papilio,
Graphium etc. Because of so colorful genus, because of advanced
high technilogy of Japanese printings, this picture book is so beautiful
and worth to have one.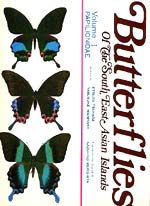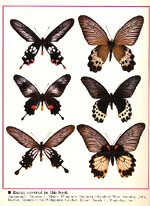 ------------

Vol.II. Pieridae and Danaidae
Author: Osamu Yata & Kazuhiko Morishita
Price:JPY35,000(+EMS postage+packing)
623pp.(162 color plates),
Size: 240mm×310mm×54mm
English eddition published: May 1985
In English.

This is also very beautiful color books, and every Pieridae and Danaidae
collector must have one. Even not a Lepidopterist, it is noce to look at, so
beautiful and amazing color varietion.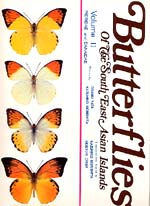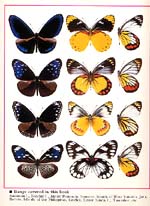 ------------

Vol.III. Satyridae, Amathusiidae and Libytheidae
Japanese edition only. Only available used book.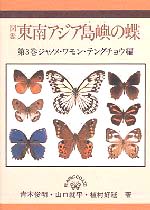 ------------

Vol.IV. Nymphalidae Part 1
Japanese edition only. Only available used book.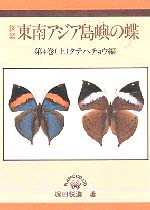 ------------

Vol.V. Nymphalidae Part 2
Etsuzo Tsukada, 1991.
Price: JPY68,000(+EMS postage+packing)
576pp.(238color plates)
Size: 240mm×310mm×50mm
Japanese edition only.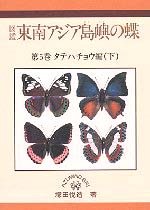 --------------------

Memoirs of the Tsukada Collection
(Descriptions of South East Asian butterflies)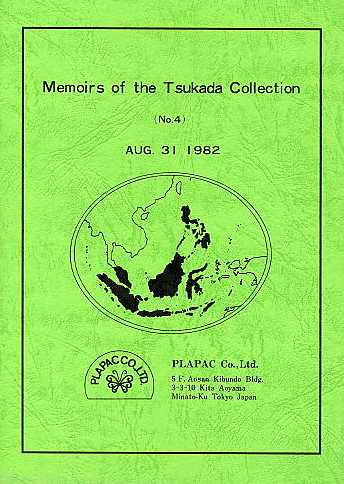 No.4
Aug. 31, 1982
B5 size, 64pp.
Price : JPY1,905.

No.5
April 30, 1987
B5 size, 80pp.
Price : JPY2,381.

--------------------



IWASE No.1〜3
(Descriptions of butterflies and some Lucanids)

No.1
Issue: Aug. 31, 1983
B5 size, 72pp.(10 color plates)
Price : JPY1,905 (postage excluded)

Butterflies of Peleng Island with description of a new ssp. of
Hebomoia leucippe from Peleng.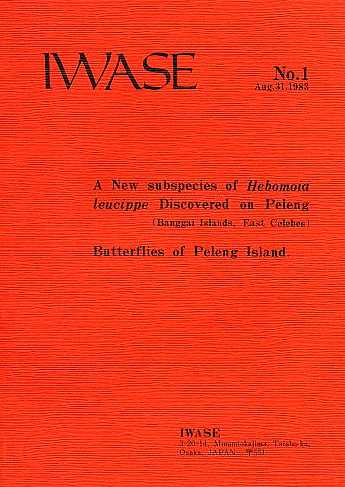 No.2
Issue: Feb. 15, 1984
B5 size, 34pp.(4 color plates)
Price : JPY952 (postage excluded)

Description of a new ssp. of Polyura cognatus from Peleng.
Description of a new sp. of Lucanus from Formosa.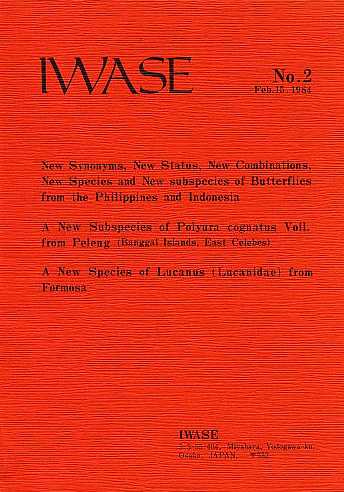 No.3
Issue: Aug. 31, 1985
B5 size, 22pp.(6 color plates)
Price : JPY952 (postage excluded)

Many descriptions of new ssp. of Philippines butterflies.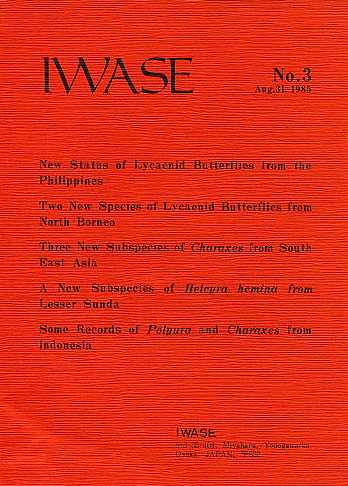 --------------------